"Paparazzo Extraordinaire"
- Newsweek
Ron Galella is widely regarded as the most famous and successful candid celebrity photographer in the world. Dubbed "Paparazzo Extraordinaire" by Newsweek and hailed as the, "Godfather of U.S. paparazzi" by Time and Vanity Fair magazines.
Ron's passion for photography and his connection to his subjects created an intimacy resulting in a body of work that is unmatched, establishing a unique niche in entertainment photojournalism.  
Ron's nearly six-decade career spans generations, ushering out the old Hollywood studio guard system including Charlie Chaplin, Ava Gardner, Gary Grant, Greta Garbo, John Wayne, Audrey Hepburn, Frank Sinatra, Liz Taylor, Bridget Bardot, Sophia Loren, Grace Kelly,  Alfred Hitchcock, Federico Fellini, Bette David, Jimmy Cagney, and transitions to the rough and tumble mavericks of the 60s and 70's-Marlon Brando, Steve McQueen, Richard Burton, Clint Eastwood, Jack Nicholson, Robert De Niro and Al Pacino, and beyond! 
Ron served as a United States Air Force photographer during the Korean conflict before attending the ArtCenter College of Design in Los Angeles, where he earned a degree in Photojournalism.
Born in 1931 and raised in the Bronx - twelve miles from Manhattan -  Ron criss-crossed between the East and West coasts of America, with numerous stops around the world in-between. He took millions of photographs of every conceivable type of celebrity - film, television, music, supermodels, fashion, athletes, politicians, business moguls, artists, authors, and innovators. 
During his unprecedented career he amassed the world's largest archive from a single source dedicated to popular culture.  He's photographed them all: from Elvis Presley, Duke Ellington, Louis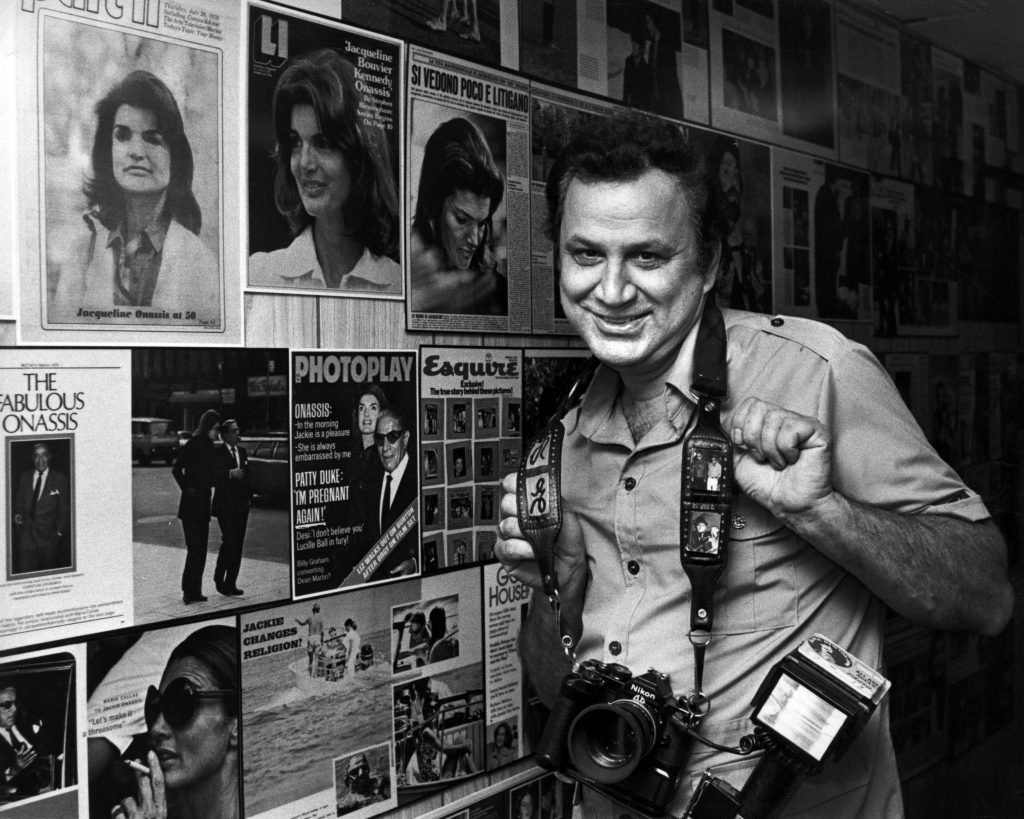 Ron Galella at his Westchester home circa 1982
Photo: Betty Burke Galella
Armstrong, Paul McCartney, Bob Dylan, Muhammad Ali,  Joe Lewis, David Bowie, Michael Jackson, Diana Ross, Simon & Garfunkel,  Jackie Onassis, Princess Diana, to Run DMC, the Beastie Boys, Lady Gaga, and Taylor Swift.  
His two most popular selling images - Windblown Jackie and the Lennon and Jagger photo gracing the cover of Ron's latest book, 100 Iconic Photographs, A Retrospective by Ron Galella, have one thing in common: neither of the subjects knew they were being photographed.   They are, according to his manifesto, the perfect Galella photographs, iconic people caught unrehearsed, spontaneous in his inimitable style.
In 2016 Time Magazine proclaimed Windblown Jackie, "one of the most influential photos of all time."  And the iconic image of the former Beatle and Jagger - bathed in beautiful defused light - may be the last professional photograph taken of the two music icons before Lennon's tragic death.
Ron's work has stood the test of time. Today his photos continue to be regularly published and broadcast globally on news programs, magazines, books and in documentaries. His much sought after signed, fine-art prints are collected in museums worldwide including, The Museum of Modern Art New York and San Francisco, the Tate Modern in London, and the Helmut Newton Foundation Museum of Photography in Berlin. His prints, coveted by private collectors, are represented by numerous galleries around the world. Not bad for an Italian American kid from a working-class family raised in the Bronx!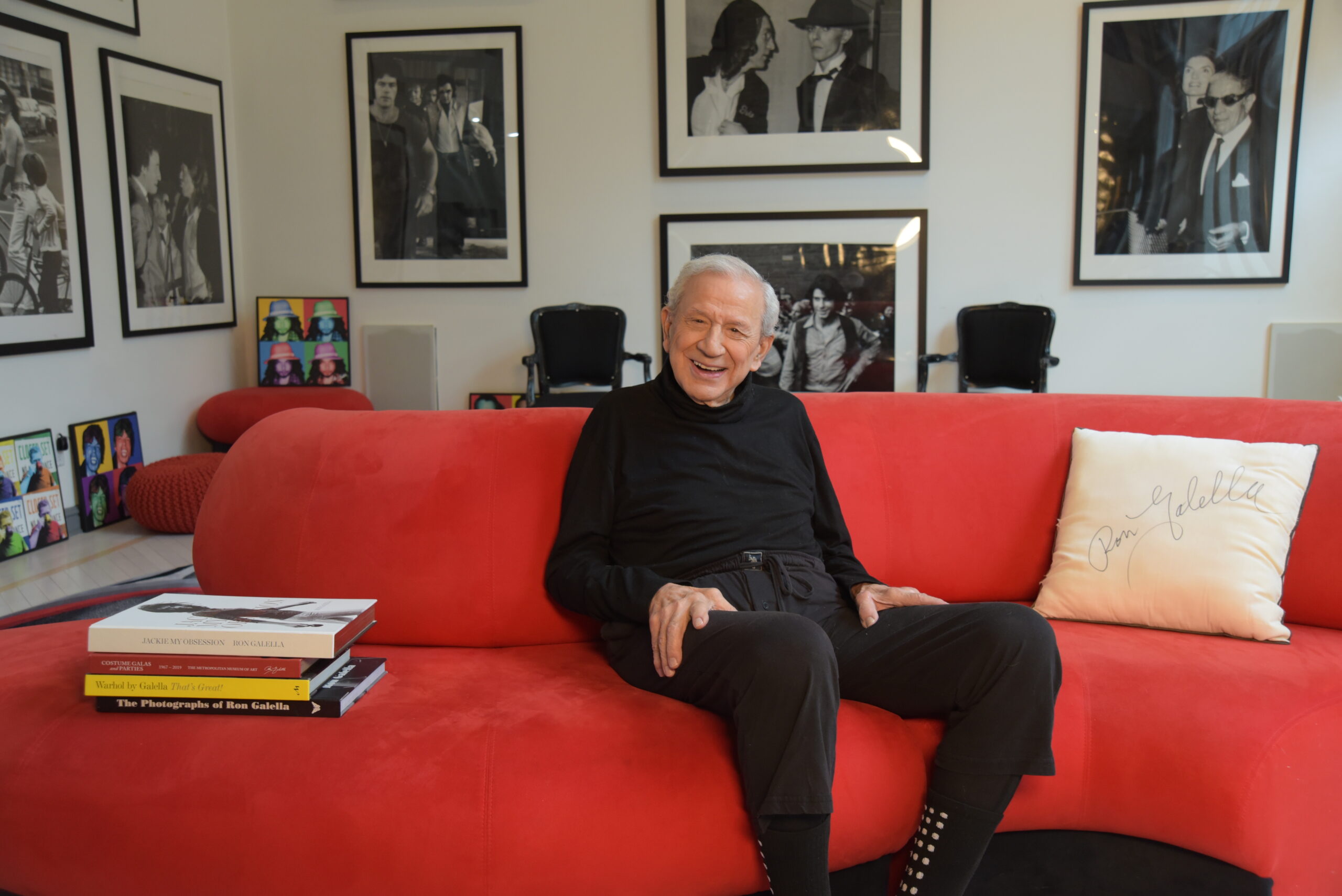 Ron Galella, age 90, at his New Jersey home, July 2021
Thanks to Galella's pioneering style and relentless work ethic, fans and critics alike could enjoy a new avenue to view their favorite celebrities. Where in-studio and posed party photos had become the norm, and easily mass-produced, Galella subverted the establishment by providing unrehearsed, spontaneous images of real moments, not the scripted pictures the agencies and film studios wanted you to see. Ron truly brought them all into view, caught candidly in Ron's unique off-guard style - the paparazzi approach. Many are exclusive. 
Consciously or not, many people from all social, economic and cultural backgrounds have become familiar with the work of Ron Galella. During Galella's 50-plus-year career, he was able to capture glamour and beauty in an everyday urban setting while perpetuating the mystery surrounding his subjects. The streets were his studio! 
Galella is a formally trained artist who developed a unique style.  He often supplemented his off-guard, direct flash photography with soft- bounced light, creating intimate portraits in public places one wouldn't think possible. Editors always knew a Galella photo! 
His unique shooting style, pre-focusing his camera at 6 feet, set at F8, and holding the camera near his chest,  ensured an interaction with the subject, creating an intimacy like no other.
Ultimately, it is his passion for the fine art of photography, coupled with a dedicated do-it-yourself approach to his craft that guided his career.  
But Ron's dedication also came at a cost: Galella had five teeth knocked out and suffered a broken jaw by the hand of a cowardly Marlon Brando who sucker-punched him. He also endured another serious beating by Richard Burton's bodyguards en route to his hotel– with a brief stop-over to a Mexican jail cell. Further, Galella was also involved in two high-profile legal battles with Jackie Onassis.
In April of 1979 Galella married Betty Burke Galella, (February 24, 1948 - January 9, 2017).  Betty was born in Somerset, Kentucky, and raised in Arlington, Virginia.
"When Betty first purchased my photos for publication and granted me assignment credentials over the phone, I fell in love with her warm, soft, loving voice," Galella said, "I met her in person for the first time, two years later, on Dec. 10, 1978, at the Kennedy Center for the premiere of "Superman". With one look at that beautiful girl, I said, '"I'm gonna marry you." And five months later, we were. Once married, we became a team.   Ron's beloved wife, Betty, became a photojournalist, editor, wife and business partner and an integral part of establishing the Ron Galella Ltd. photo agency.  
In 1983 Ron and his wife Betty began adding staff photographers, working with some of the industry's most up and coming, many beginning their careers with Ron. The photo agency greatly expanded their reach into celebrity coverage.  Ron Galella Ltd, was incorporated in 1992.
In 1992 the couple moved from their severely cramped long-time headquarters at 17 Glover Avenue in Yonkers, (a house his brother built) to New Jersey where he currently resides.  
Andy Warhol called Galella his, "favorite photographer." We had the "same social disease," Ron commented, speaking about their compulsive interest in celebrity.    
In 2009 the government of Basilicata, Italy, graciously honored Ron―whose father, Vincenzo, was born in Muro Lucano―by making him an honorary citizen. 
Ron's passion for photojournalism and his craft has also given rise to many highly acclaimed photo-art books, including Disco Years, which was honored as Best Photography Book of 2006 by The New York Times. In 2003 fashion designer Tom Ford produced the art book, The Photographs of Ron Galella (with a foreword by Diane Keaton), and designer Michael Kors named his 2004 line, "Galella Glamour." 
In 2010, Galella was subject of Oscar-winning director Leon Gast (When We Were Kings, 1996)  film, Smash His Camera, a documentary about his life and career. The film received the Grand Jury Award at the 2010 Sundance Film Festival.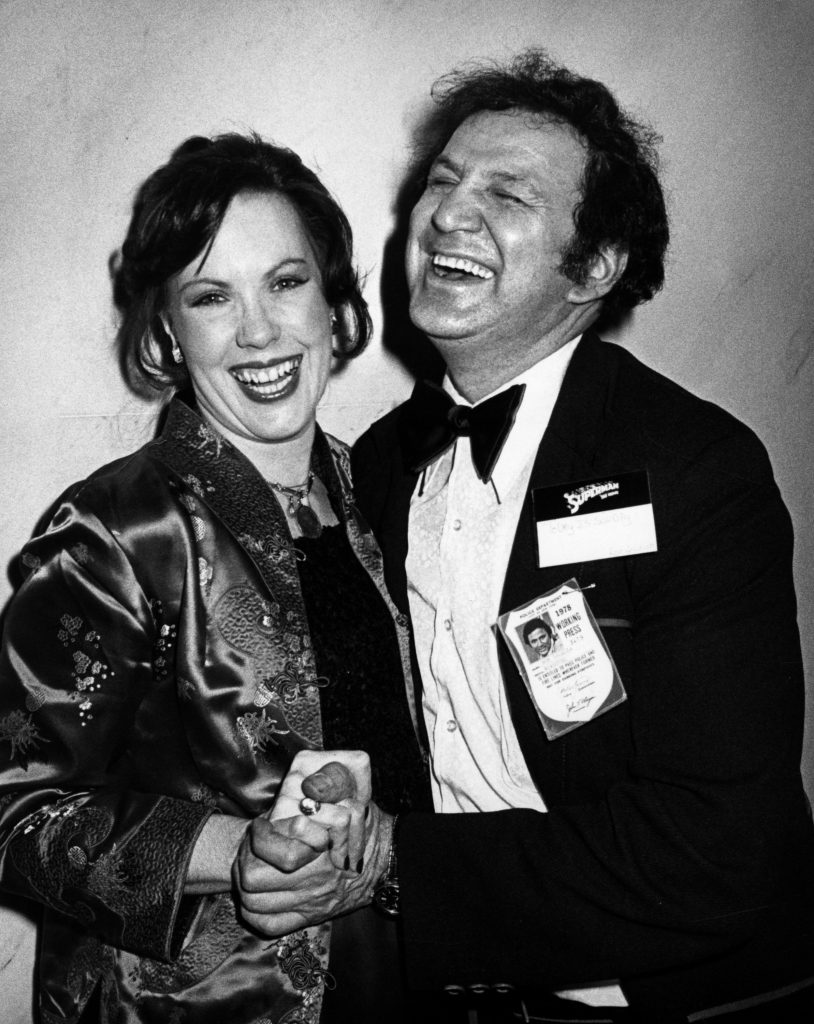 December 10, 1978: Betty Burke and Ron Galella meeting for the first time at the Superman premiere, Washington, DC
The film was also well-received at the 54th BFI London Film Festival prior to airing on the BBC throughout the United Kingdom and Europe.
Ron Galella passed away quietly at his home on April 30, 2022, he was 92.
Ron's body of work is currently made available for research and editorial use through Getty Images and their website at https://www.gettyimages.com/photos/ron-galella; authorized representatives are available via phone at +1 (646) 613 4000, OR +1 (800) 462-4379.