Ron Galella, 91, Laid To Rest
By Geoffrey Croft
It was a service fit for a celebrity. 
Pioneer photojournalist Ron Galella was laid to rest on Thursday, May 5th and he planned exactly how he wanted to go out. 
So it was only fitting that he picked Frank E. Campbell known as, "The Funeral home to the stars." 
Family, friends, editors, photographers, gallery and museum
representatives were among the well-wishers who paid their respects to the man movie critic Roger Ebert wrote was a, "national treasure."
The music, Stravinsky Conducts Stravinsky, was picked by the maestro himself, The Finale, Ron wrote on a yellow Post-it note.
Scattered across the room were momentos from his nearly 60-year career – the famous Marlon Brando football helmet, his customized Pierre Cardin khaki-safari Paparazzi Jacket, (Ron's humor was never far away) – a Nikon FM 2 camera with Ascor flash, and numerous photographs including Windblown Jackie, Elizabeth Taylor, and John Lennon with Mick Jagger.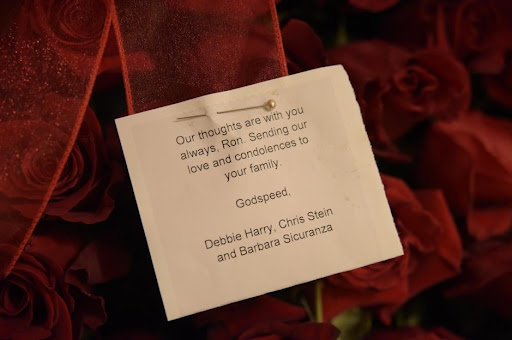 Blondie's Debbie Harry and Chris Stein sent flowers. Stunning heart shaped bouquet of red roses.
The century-old funeral parlor burst into international notoriety in 1926 with the sudden passing of 31-year-old silent screen superstar, Rudolph Valentino. 
Since then the Upper East Side establishment has been the preferred funeral home for countless personalities including William Randolph Hearst, Irving Berlin, George Gershwin, Igor Stravinsky, and many who Galella photographed, James Cagney, Greta Garbo, Joan Crawford, John Lennon, Heath Ledger, and of course, Jacqueline Kennedy Onassis.
On Thursday morning the family gathered to say their last good byes at the funeral parlor.  
"I love you, I miss you," nine-year-old Samantha, the youngest of his Great nieces, said waving to her beloved "Uncle Ron." 
She and her two sisters, Camille, 10, and Nicolette, 9, relished the time they spent at his house where Ron would judge art contests. Their art work is proudly displayed in the kitchen, one of the most important rooms in the Galella home!  Camille would ask to visit because she didn't want him to be lonely.
Pallbearers brought the body of Mr. Galella from the funeral home to the waiting hearse, a United States burial flag draped over the casket, exemplifying his military service. 
Turning the corner onto Fifth Avenue the hearse drove past The Metropolitan Museum of Art, the site of his favorite annual event, The MET Gala, which he covered for 44 years beginning in 1967 and produced a lavish book.
Further down Fifth Avenue the cars drove past the iconic Pierre Hotel which installed Galella's last exhibit, CELEBRATIONS, CELEBRITIES & COUTURE AT THE PIERRE hours after his death.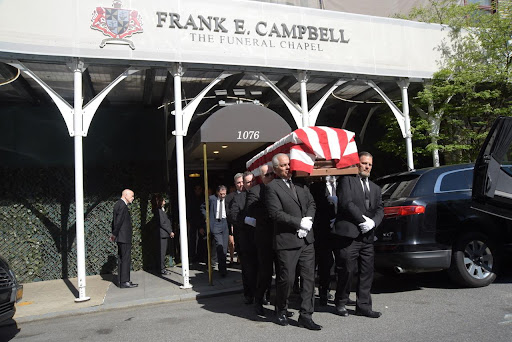 Frank E. Campbell pallbearers carry Ron's casket, headed to St. Patrick's Cathedral.
The procession arrived at the historic St. Patrick's Cathedral for the funeral mass, the site of the city's most celebrated funerals. 
Pallbearers carried the casket up the stairs and past the massive 18000 pound bronze doors depicting saints and other important religious figures, including Mother Frances Cabrini, an Italian-American nun who was canonized, and entered architect James Renwick Jr's Midtown masterpiece.  
Amazing Grace echoed beautifully throughout the cavernous Neo-Gothic architecture and Tuckahoe marble as pallbearers wheeled the casket to the front of the iconic church to the high altar as family filed behind it. Tourists stood respectfully to watch the procession. 
His nephew Anthony Savignano, a retired Yonkers, NY Fire Department Captain, gave the eulogy.  
He began with a simple, "HA, HA HA," perfectly mimicking his famous laugh, instantly recognized to those who knew him.
He joked that he expected to be handed a note containing his eulogy written by Ron as well, leaving nothing to chance.
Anthony photographed with his uncle for a number of years when he was younger, but their career paths went on a different trajectory. 
Savignano quoted Abraham Maslow, the noted psychologist and motivational speaker who he came across while studying for his Civil Servant promotional exams.  Hierarchy of Needs his pyramid, is one of the best-known theories of motivation. Maslow's theory states that our actions are motivated by certain physiological needs required to fulfill our potential. This is illustrated by a pyramid of needs, he noted. 
"On the top of the pyramid was self-actualization." Savignano said. 
He used the example of a mad scientist who is consumed by his work and puts on two different pairs of socks. 
"I said to myself, 'I know this guy, I know him, It's Ron,'" he said. 
He described his uncle's daily routine. Getting into his orange and later, canary yellow, Firebird Trans Am, driving into the city, shooting, coming home, processing film and printing into the middle of the night and the next morning going down to the agencies and magazines to hand out his pictures.    
"He wasn't a mad scientist, he was an artist, but he had desire, that passion," he said.
"He's a very passionate person, it's obvious he was passionate about his work, he was passionate about life in general, his pets, rabbits or cats. He was passionate about his country, he served in the military in the Air Force in the Korean theater, he was passionate about his wife Betty, who helped significantly expand and transform his business, he was passionate about his home.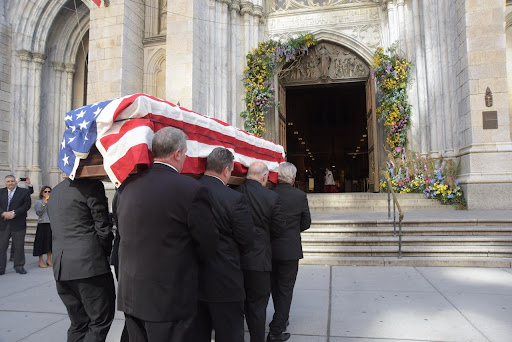 Frank E. Campbell pallbearers carry Ron's casket, draped by the American flag into St. Patrick's Cathedral.
His Italian heritage was never far from him, Ron's father Vincenzo Galella, was born in Muro Lucano, Italy.  Ron's home is named Villa Palladio, in honor of the Italian Renaissance architect Andrea Palladio. 
He was passionate about creativity, while out shooting, describing the several "takes" he needed, "blasting them coming out of the limousine, over the shoulder," while mentioning his interaction with his subjects. 
He noted that his uncle wasn't just a photographer, pointing out his skill as a photo technician in the lab, carefully printing his archival fiber prints. 
He concluded with food for thought he said.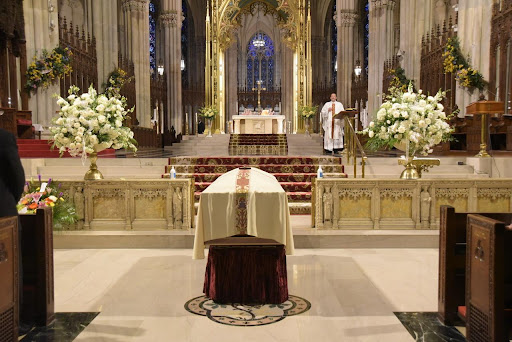 Ron's casket inside St. Patrick's Cathedral in front of the high alter.
He imagines his uncle standing outside the gates of Heaven guarded by the ever vigilant Saint Peter and he wants to get in to photograph the most famous people that have come before him. 
"The question I ask you is, does Saint Peter let him in, or does he, CRASH THE GATES!"  Savignano said, perfectly mimicking his uncle's over the top delivery which was met with applause. 
From St. Patrick's it was on to his final resting place at Woodlawn Cemetery in the Bronx, the borough where he was born and raised. 
He joins other luminaries including Duke Ellington,  Irving Berlin, George M. Cohan,   Miles Davis,  Herman Melville,  Dorothy Parker and investigative reporter Nelly Bly.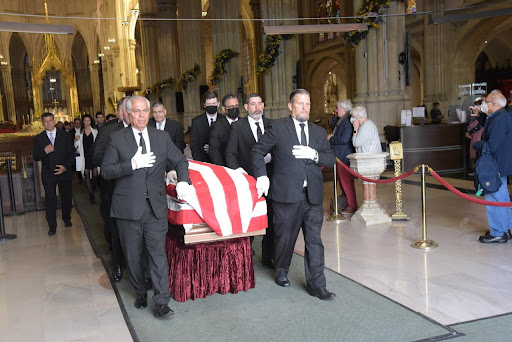 Pallbearers pause before leaving St. Patrick's Cathedral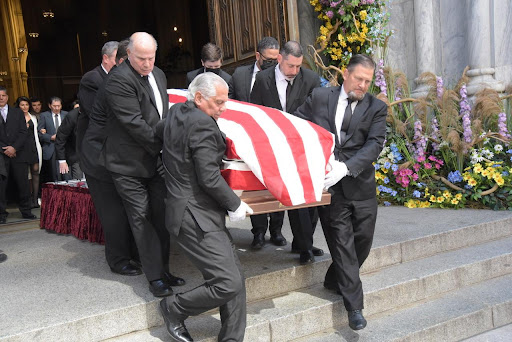 Pallbearers carry Ron's casket out of St. Patrick's cathedral heading to his final
resting place, Woodlawn Cemetery, Bronx, NY.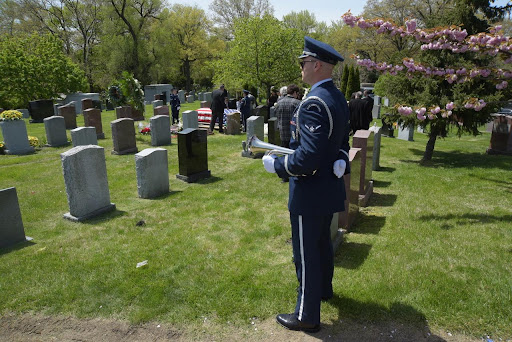 A member of the U S Air Force honor guard officially began the moving ceremony
with the playing of Taps.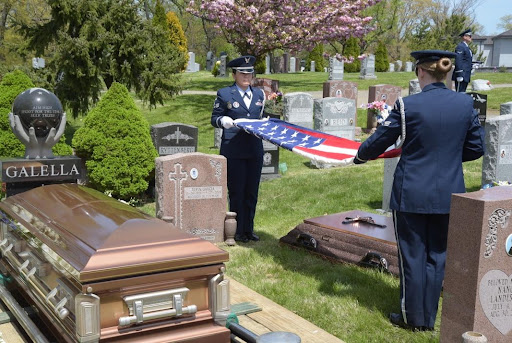 The honor guard meticulously folded the United States burial casket flag thirteen times on the
triangles. The folded flag is emblematic of the tri-cornered hat worn by the
Patriots of the American Revolution.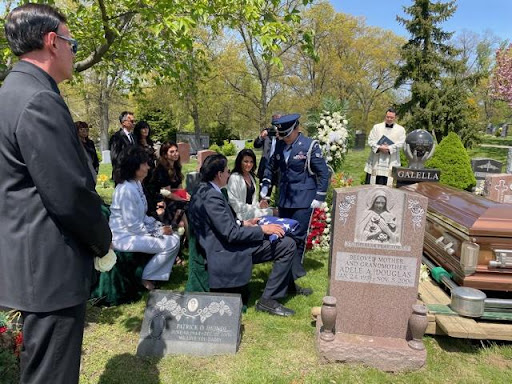 "On behalf of the President of the United States, the United States Air Force, and a grateful Nation,
please accept this flag as a symbol of our appreciation for your loved one's honorable and
faithful service," the honor guard said and presented it to Ron's only serving sibling, his brother Vincent, 89.
Deeply patriotic, Ron also credits above all, his experience in the Air Force with his photographic career.
Rev. Christopher Monturo, from Sacred Heart - Our Lady of Pompeii Parish in Dobbs Ferry, NY officiated from the gravesite.
He began the service by commenting on the unique design of headstone, two hands holding a world engraved with hardly modest words.   
"Ron Galella , Paparazzo extraordinaire, Newsweek," he said reading the headstone quoting the famous news magazine.
 "I'm sure he had something to do with the design," he said smiling.
"Ron lived in another time, he lived in a time when a photographer was a very important and very special commodity and photographers are still important, good photographers, professional photographers, photographers who are really not just people who take pictures but are truly artists and he has been that, because photographers even today preserve history. They are not only artists but they are also historians and Ron has certainly done that for our generation and for the generations before us," Rev. Monturo said.   
"As I think today, while he has certainly preserved history for all of us, he's also secured and reserved his place not only in history but in the heavenly kingdom now," he said, answering the question posed by his nephew at the church.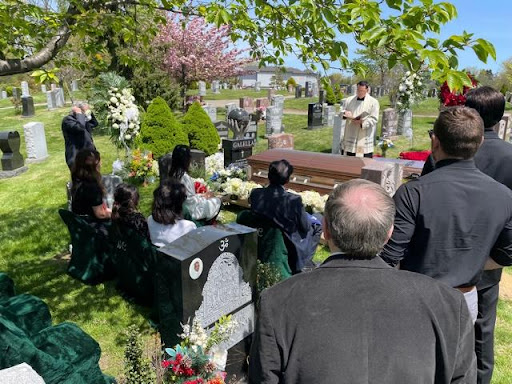 Father Chris officiating over the burial ceremony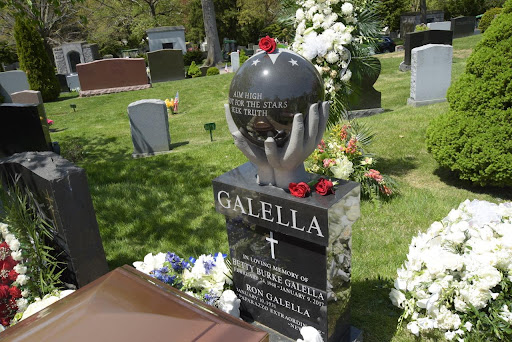 Ron's grand nieces placed red roses on the headstone which he shares with his beloved wife,
Betty who passed away peacefully on January 9, 2017, one day before Galella's eighty-sixth birthday. 
"Aim high, shoot for the stars and seek truth," Father Chris said, reading from Ron's headstone.
"I think if we followed in those same footsteps, if we followed those words of wisdom, we'll all be well served, and we'll all, like he did, make the world a better place." 
With the service ended mourners placed yellow roses on the coffin one by one and walked away.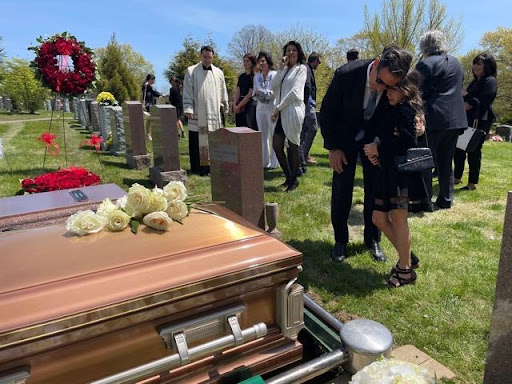 Peter Savignano consoling his daughter, Samantha.
Less than a stone's throw away is the understated headstone of another famous Italian American,  Fiorello LaGuardia (1882-1947).  Mr. LaGuardia served as a Congressman and then most famously as the mayor of New York during the Great Depression and World War II, streets, a college and he even has a New York City airport named in his honor. 
His headstone simply reads, LaGuardia Statesman Humanitarian 
The modesty would certainly have caught the attention of Mr. Galella. 
"But I'm more famous than he is," he would have undoubtedly said laughing, raising his voice and arms up to the heavens. 
No doubt.
But in the end, stripped of the edifice, the "glamour" and his impact on popular culture, perhaps the day was best summed up by the love and impact of his loss felt on family that made the greatest lasting impression expressed by Ron's youngest Great niece,  Samantha, 9.  
At the grave site, the finality hit. The realization had sunk in that she would no longer be able to visit her beloved uncle.
In tears, she was the last to leave, consoled by her father, wrapped in his warm embrace.
"I miss him so much."
RIP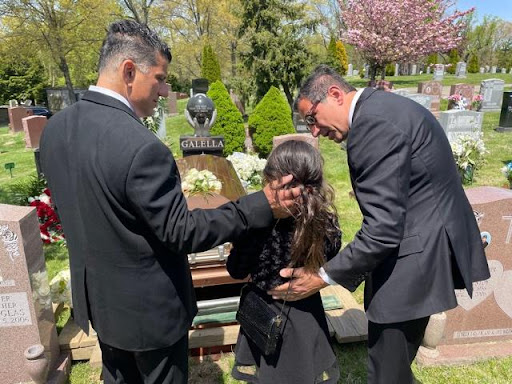 Uncle Anthony Savignano and his brother Peter, consoling heartbroken Samantha.
Mr. Croft co-edited Galella's last book, 100 iconic images: A Retrospective 
Ron's body of work is currently made available for research and editorial use through Getty Images and their website at https://www.gettyimages.com/photos/ron-galella; authorized representatives are available via phone at +1 (646) 613 4000, OR +1 (800) 462-4379.